Hansruedi Gunzenhauser Sissach is swiss at something
From the region for the region
A give and take
Stefanie Cairoli and David Simon bring the burger to the Säge country kitchen in Rothenfluh with their gastro concept; with predominantly regional product selection, an eye for detail and an innovative touch. A well-rounded affair from patty to bun that both guests and local suppliers enjoy.
It seems as if time has stood still a bit, here in picturesque Rothenfluh, the Upper Basel municipality with around 800 inhabitants. One looks in vain for a railway line, but there is a small village shop. And: The Säge restaurant, which was built in 1917 by Jakob Erny-Erny ("Sager Schaggi"). But appearances are deceptive. Today Stefanie Cairoli and David Simon run the «Saagi» - and that is anything but antiquated. With a lot of verve and passion for casual dining, they cook fresh, contemporary and predominantly regional products.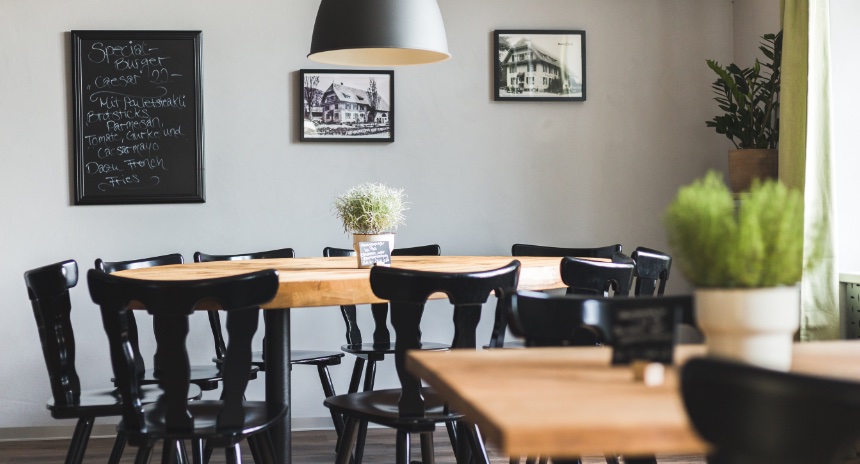 The airy, fresh guest room in the Säge restaurant. The name comes from the sawmill built in 1700, which was abandoned in 1958. Historical photographs are a reminder of their history. (Picture provided)
International cuisine with regional accents
What began in 2015 with a food truck - affectionately known as a "foodie" - has now also enjoyed great popularity in the saw's guest room since 2018. Because the various burger creations have almost achieved cult status. "We are of course very pleased," says Simon. "After all, the location of the saw didn't necessarily speak in favor of a burger restaurant". But their success proves them right. And Cairoli adds: "When we took over the saw, we decided to pick up where we left off; with our burgers. However, our culinary offer goes beyond that and is now very versatile. " In fact, the menu includes, for example, a Basel beef entrecote with coffee and chili butter, an Ergolztaler veal cordon bleu, a kernotto made from organic original spelled from Eptingen, as well as a vegetarian Buddha bowl with bulgur, falafel, courgette and tomatoes and pomegranate seeds with mint yogurt.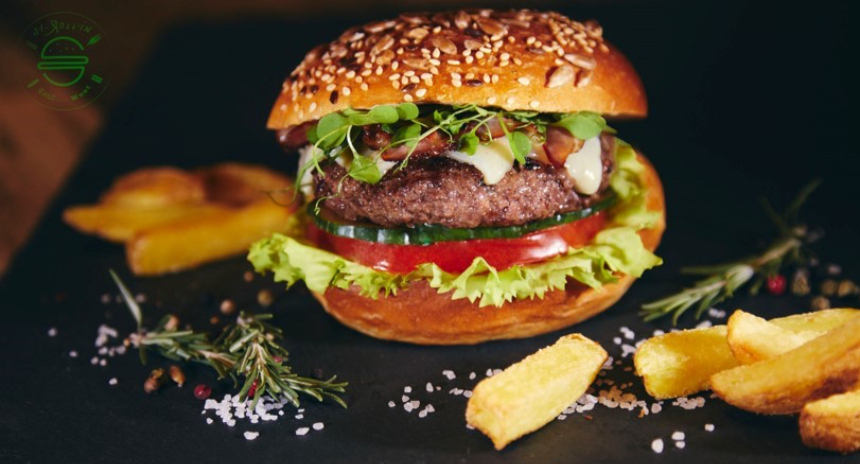 Creation with cult status: The juicy roasted beef patty really comes into its own between the two halves of the crispy bun from the Sissach bakery Gunzenhauser. (Picture provided)
Simple, honest and always a pleasure
"Casual dining" is the keyword. So comfort in the dining room, ease in furnishing and sustainability in the food. "We produce everything we can ourselves," says Cairoli. "That ranges from mustard and ketchup to side dishes and desserts. Everything else that we don't have enough capacity for in our kitchen is made by specialists. " That is why it is also the Gunzenhauser bakery in Sissach that, in addition to the Ruchbrot, also produces the airy hamburger buns for the host couple. Simon says: "Of course we first tried to create a perfect bun for our burger ourselves. But we quickly realized that we'd better leave that to a professional and went looking for a baker with the recipe. " In the Gunzenhauser bakery, however, they not only have a supplier, but above all a partner with whom they can discuss and implement new ideas.
The way to the perfect burger bun: tinkering and testing until the result is right. The team at Restaurant Säge has found the perfect partner in the Gunzenhauser bakery. (Pictures provided)
Learned is learned
The way to the perfect burger bun was also associated with tinkering and testing in collaboration with the bakery. "The original recipe was of course not tailored to the processes and infrastructure of our bakery," says Simon Kaufmann, Production Manager at Gunzenhauser. "But after a few slight adjustments, we quickly found each other. In terms of taste anyway, but soon also with regard to the uniform size of each individual bun. Stefanie Cairoli smiles and says: "With us, every roll looked different, despite the same number of grams. This shows that what has been learned is learned. " The baker is also at the side of the restaurateurs with special requests. For example, the wild boar burger came with the pretzel roll and the venison burger with the square pumpkin paillasse. "I never get that quality from wholesalers," Simon is convinced. "Quite apart from storytelling with the guest." Because with every dish he can tell a story and create a connection to the region. Simon: "Origin and quality are incredibly valued by guests, which is why they are willing to pay any additional expenses."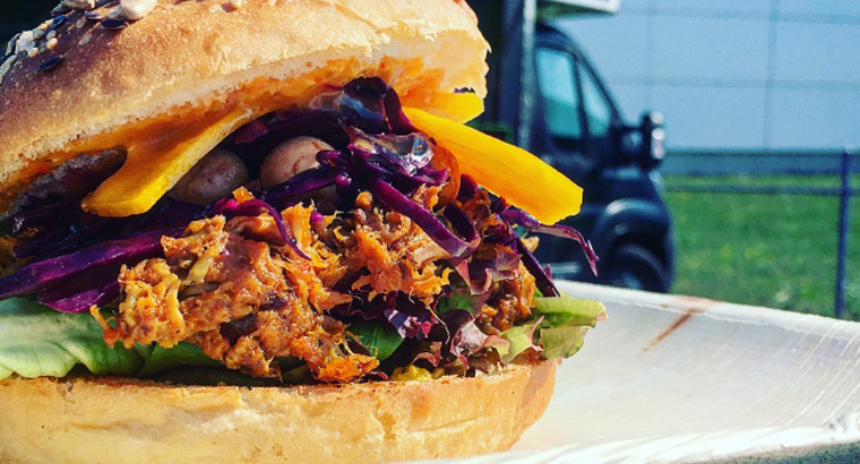 Whether it is the Säge restaurant or the "Foodie" food truck: the guests are spoiled with culinary delights in a relaxed atmosphere with as much regional products as possible. (Picture provided)
A give and take
And what does the cooperation look like in terms of organization, lead time and logistics? "We are aware that we have to adhere to a certain lead time due to the dough that we need to rest," says Simon. "Accordingly, we usually order weekly and freeze a certain number of fresh rolls." But the fact is that the quantities are sometimes difficult to estimate, especially with the food truck at a street food festival. "Fortunately, the Gunzenhauser bakery is very flexible and forgives a text message in the middle of the night when an order is sweaty." The partners also work pragmatically with regard to delivery. "Our cook connects his commute with the purchase or procurement of the products," explains Cairoli. This is practical for both sides, as there is no extra trip for the delivery. Another point that speaks for regionality. But the conscious consideration and appreciation of the regional trade has other advantages. «We look forward to the regular reservations from Gunzenhauser. That is a real "give and take".
Casual dining: The saw in Rothenfluh combines apparently contradicting things like comfort with class, relaxation with aesthetics, sustainability with enjoyment. (Picture provided)