On in person appeared before me who proved
look in the past
by Frank Spahr (1:35 different manufacturers)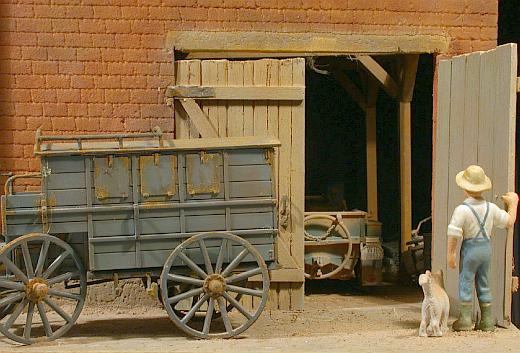 A farm somewhere in Germany these days. Traditional agriculture is no longer worthwhile and many farms are being given up. Farmland is disappearing under new development areas, the buildings are finding new owners, and a lot is being demolished or rebuilt. Let's imagine someone buys a farm and takes stock. He looks into every room and behind every door that has not been open for a long time. Maybe he is a farmer himself, but maybe also a city dweller with a passion for country life. Perhaps the farm is about to start a new career as an organic farm, but perhaps also a renovation for residential or holiday purposes. Who knows. In any case, at some point he will move a wrecked horse-drawn cart to one side and find a barn door behind it that has not been opened for ages. He uses the bolt cutter, the gate wing reluctantly opens. Dust particles shimmer in the sunlight that penetrates inside, and something very large and massive becomes visible that fills almost the entire room. Our man winks, holds on to the gate wing and wonders what he has discovered ...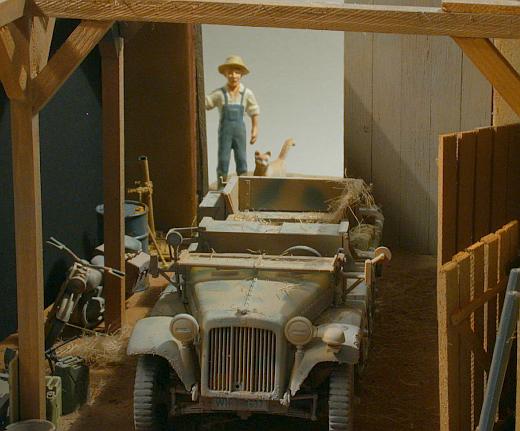 I'm becoming more and more of a model-making omnivore. After a whole bunch of airplanes, I've started with ships again, working my way to the smaller scales, and now I'm starting with dioramas too. To credibly reproduce parts of reality is an art that I really enjoy learning and that I find relaxation on the one hand and an exercise in imagination, sensitivity and perseverance on the other.
I will probably never specialize as many who know everything there is to know about certain areas. Personally, I don't really enjoy that, and that's why the details will never be perfect with me. For me, it's more about having fun.
Except for two 1:35 Leopard tanks, I haven't built any military vehicles since my school days; It only happened last summer: In front of the door of the model shop "around the corner" there is always a wire basket with special offers. I actually only wanted to buy a can of paint that day, but finally I left the shop with a Mirage III, the old Matchbox kit from HMS Kelly in 1: 700, an Airfix Auster Antarctic and the half-track Sd.Kfz 10 from Revell in 1: 35 - and the wire basket was clearly emptier.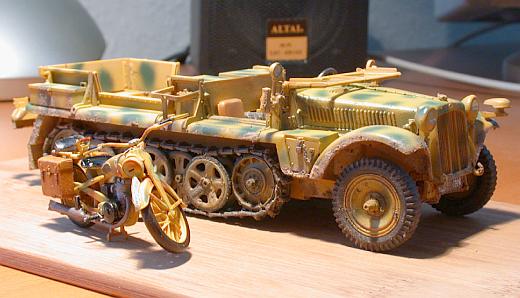 Pretty soon I got started with the half-track; it was a straightforward build with no major fitting problems. I practically didn't use the spatula at all, and I was able to assemble a large part of it before painting. Of course, I prepainted the various wheels to reproduce the rubber coating. I mounted the wheels on toothpicks in a styrofoam block and sprayed them with stencils. I preassembled the chain drive in two assemblies and only attached it to the vehicle afterwards. Working with the chain segments was the most difficult step for me. The chain was enclosed in segments of different sizes as a good dozen injection molded parts per side; these were pre-painted and attached with CA glue, which was not entirely without problems. I had sprayed the chain segments with Model Master Stahl Metalizer and dry-painted them with oil paint, similar to how I do an airplane exhaust, only a lot more subtle. The paintwork of the vehicle was loosely based on one of the specifications of the kit, with a sand-yellow base color and green spots. One or the other shading with an airbrush followed, as well as a washing with diluted black water-based paint, to which I added a little washing-up liquid to remove the surface tension. Soiling was first applied with pastel chalk and finally sealed with a matt varnish.
Now my half-track was in front of me. I refrained from using the convertible top; the on-board tools and the petrol cans were not installed, because by now I had the idea of ​​how I wanted to present the vehicle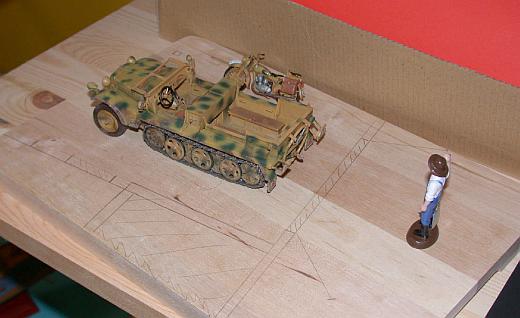 Somewhere on the internet I had read the story of an eccentric in the USA or Canada who had bought up huge amounts of surplus war material after the war and stuffed his farm with it. And in my previous local pub there were posters from the "Sleeping Beauties" series of classic cars that were also dusting in a barn. And when I was a student, I knew an older farmer who claimed he had his private weapons cache hidden somewhere in the yard or in the forest - "just in case!" Somehow all these images came together and I decided to build a barn find.
The half-track vehicle was of course a little too little for that; So after a long period of brooding in front of the 1:35 shelf in the shop, I got myself a German motorcycle from Tamiya as well as accessory sets from Italeri and Academy, which contained all kinds of firearms, tools, canisters, boxes and boxes as well as barrels.
Next, I littered the half-track; I used fine earth powder from my garden for this. After drying, I went over the model again with different matching colors from the airbrush.
The bike was built out of the box and given a three-tone paint job - sand yellow with green and rust red spots. The leather bags were painted with artist oil paints and I liked them very much afterwards.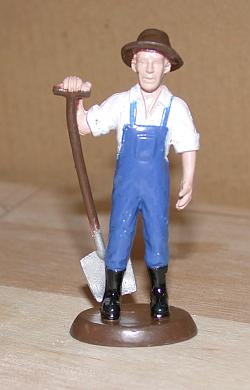 After I had these two vehicles, the question of a suitable figure became more and more topical. I searched long and hard for a modern farmer, but couldn't find anything suitable in the military model area. Finally, in the toy store, I found a plastic bag with Siku toy figures, and it contained a farmer, rather roughly modeled and made of vinyl, but better than nothing.
As a base plate I took an IKEA birch breakfast board. On this I built my vehicles and the figure and made a model of the required walls out of black cardboard in order to get an impression of the dimensions and proportions.
The area in front of the gate made me difficult. I wanted to suggest that this gate was locked for a long time. It originally occurred to me that I could show bushes or young trees that had grown before and that our farmer had now removed with the chainsaw. That would really have looked like Sleeping Beauty or "Sleeping Beauty" in English. Modern princes probably use chainsaws. Well, I could have built a chainsaw, but the rest? Fresh tree stumps, freshly felled trees, leaves? Well, before that I pinched. I just postponed the decision and went on to build the walls.
For this I used epafit cardboard, which is available from architects. The individual parts were cut to size using the cardboard templates of my "mock-up" and the cardboard was removed. I decided that my barn should have a rubble foundation and otherwise be bricked and plastered on the inside. As far as realism and role models are concerned, I've allowed myself all the freedom. I engraved the material with an X-ACTO No. 11 on the back of the tip, so the result is more uneven and realistic. I used a ruler for the individual layers of the bricks, otherwise I worked free-hand. The individual parts were glued with UHU por and aligned with the drawing on the base board. The painting was done with an airbrush with all possible colors that seemed appropriate to me. The material absorbs a lot of paint and it is also possible to achieve effects by using different spray angles. Sometimes a brush was also used for painting. There were numerous work processes in which I behaved rather instinctively in order to come close to the image I had in my head.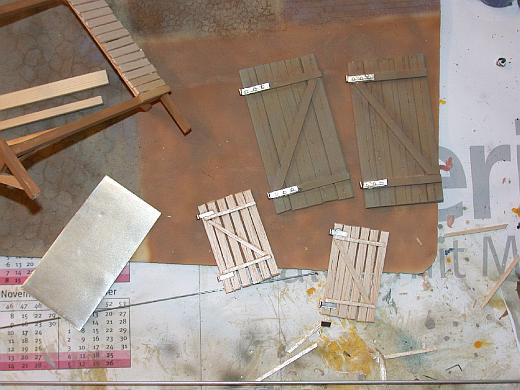 Next, I turned to the floor. Here I had originally wanted to work with some kind of plastic material, but then decided on epafit because I thought it was easier and cleaner. The area in front of the barn was given a rough pavement, the interior a clay floor and the two adjoining rooms were given a brick or pebble floor (I just wanted to try it out, hence the different structures). The floor was colored and shaded in the same way, and I was able to assemble the timbers from pine strips. The wood was also sprayed "old".
The barn doors were assembled from balsa wood strips and glued with CA. The hinges are made of 0.3 mm tin foil, which can be easily cut and embossed. When painting the wood, I used green and gray tones to reproduce old and weathered wood.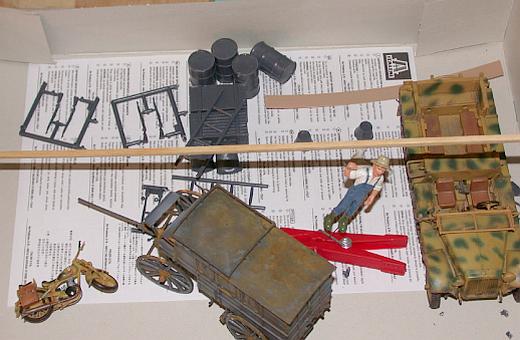 It was around this time that I solved the problem with the area in front of the barn. I had seen a completely rotten old horse-drawn cart somewhere and decided to put one in front of the barn. After a pleasantly short search, I found the Italeri kit, which contains an open and a closed horse-drawn carriage along with horses, coachmen and cargo. This was easily built out of the box and heavily aged.
Some time before I had bought a two-component rust-producing agent. Agent A is an iron pigment paint that is applied to the desired area and allowed to dry well.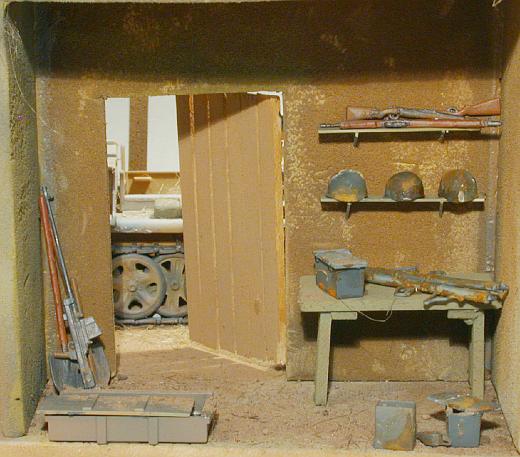 Agent B is a very aggressive oxidizing agent, maybe hydrochloric acid or something similar, which you - best with gloves, dear children at home in front of the screens ;-) - apply to A, after which the rust forms. You can also apply the oxidizer several times, depending on the desired intensity of the effect. I had experimented with my own grate (made of steel wool that you put in water) at the time, but still used it and it worked very well. Soon all the metal parts of the car were badly rusted.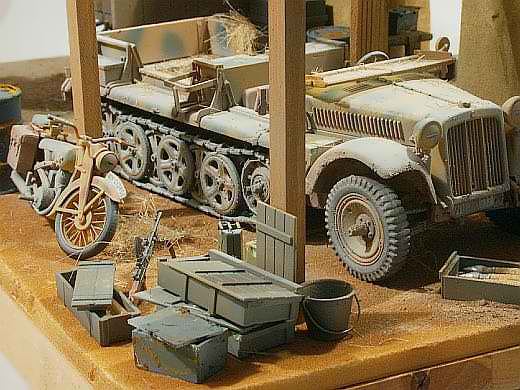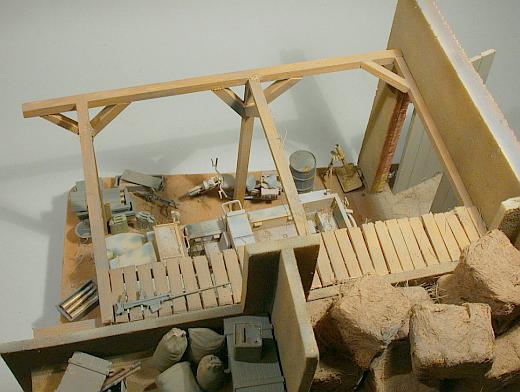 My farmer was rebuilt a little, he lost his stand and the crooked spade he was carrying. Then I repainted it with acrylic paint. After I covered it with Future, I shaded it a little with oil paints. A layer of Flat Future finished off the minimal painting.
That happened the day I finally put it all together. I glued the epafit parts together with white glue and sprinkled the glue angles with earth powder to make the transitions more harmonious, I put the vehicles (which I had dusted off with the airbrush) in them, attached the woodwork and the doors, and finally found them all small parts have their place. I quickly built a rough table and two shelves for the one side room and glued in the amounts of weapons and ammunition and equipment. It should look as if someone had collected all of the abandoned material that they could get hold of without actually knowing what to do with it - and finally forgot it or closed their eyes to it.
Fine dirt was scattered over the whole area, and fine hemp snippets were distributed as straw. A little more dust and dirt from the airbrush finished the work. The base was treated all around with wood oil, and that was it.
As teacher Bömmel said in the "Feuerzangenbowle": What do we learn from that? I had a lot of fun on this project, and I also feel that I learned something from it. It was new for me to think about compositions and perspectives, to try to make a situation or a little story clear, to achieve a coherent color concept. I had never worked with rust or hemp or epafit, and not with many other things either. It will definitely not be my last attempt at diorama, let's see what the next idea that comes up from the subconscious is.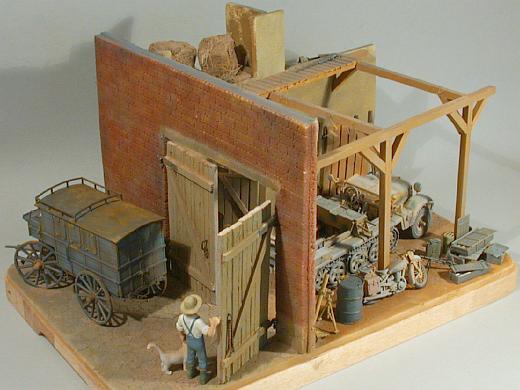 February 2005 - Frank Spahr [email protected]
The kits used are:
Revell DEMAG 1 t ZgKw D7 (Sd.Kfz.10) # 03039 Tamiya MM 241 German Motorcycle Orderly Set Italeri German Horse drawn Convoy Kit # 6437 Italeri Accessories Kit # 407 Academy Allied & German Tank Supplies Set I # 1382
All on a scale of 1:35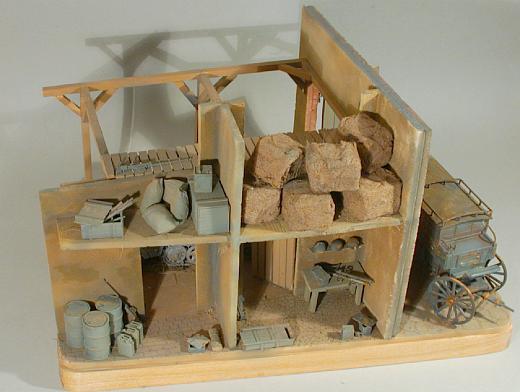 Frank Spahr
Published on March 20, 2005