How to stop having two faces
Adaptation and change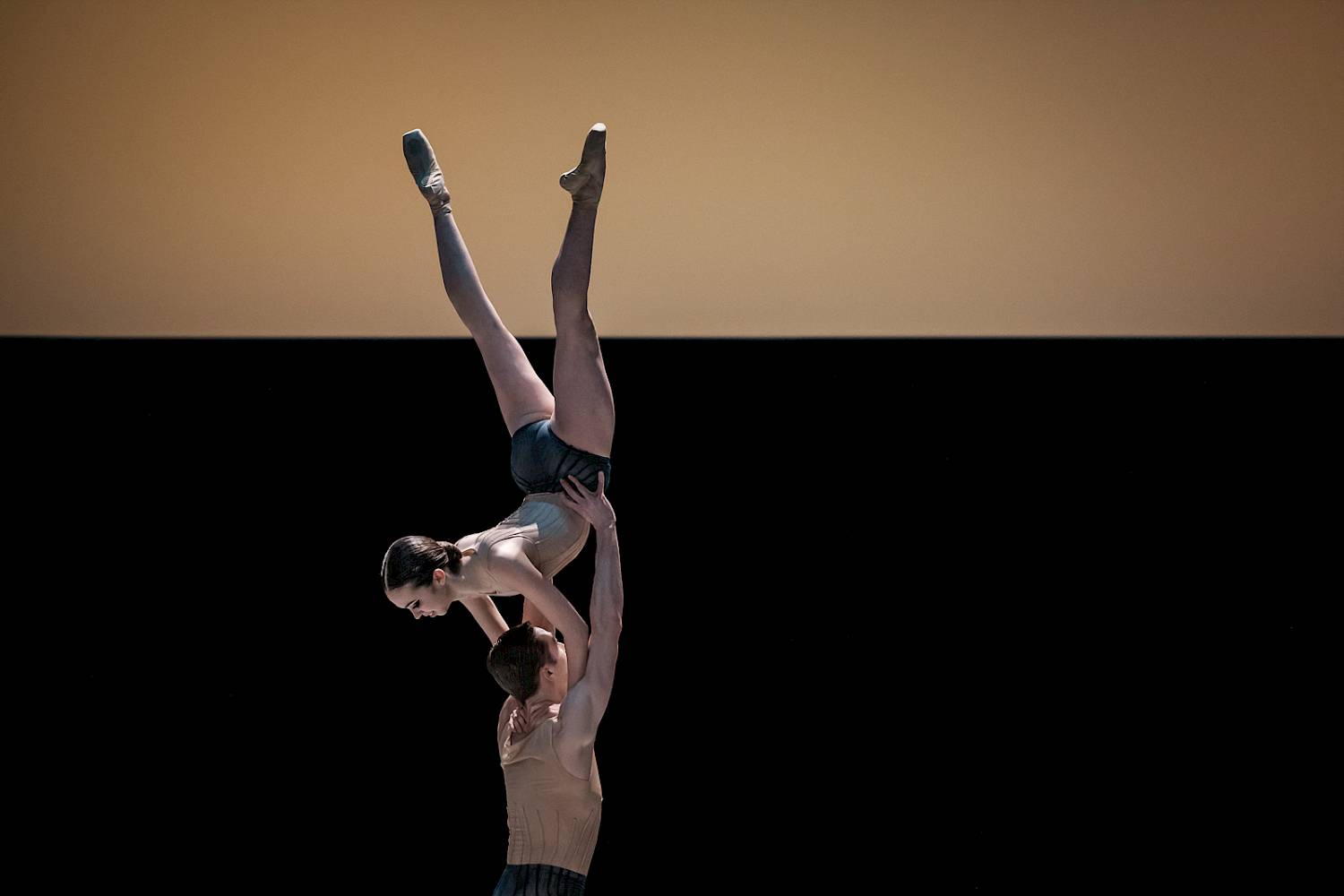 Impulses
Video on Demand:
Impulses
The production is available as video on demand until the end of April.
You can enjoy the streaming of Impulses free of charge. If you would like to express your joy and attachment with a donation, you are welcome to do so here. Thank you very much!
Impulses
The Junior Ballet dances choreografies by Craig Davidson, Bryan Arias and Juliano Nunes

Entropy
Choreography Craig Davidson MusicNicholas Robert Thayer Stage design Craig Davidson Costumes Alana Sargent Lighting designer Martin Gebhardt Dramaturgy Michael Küster
Junior ballet


Pure Coincidence
Choreography Bryan Arias MusicWolf Hoeyberghs, Carlos Cipa, The Invincibles, Taylor Deupree, His Name is Alive Stage design Bryan Arias Costumes Bregje van Balen Lighting designer Martin Gebhardt Dramaturgy Michael Küster
Junior ballet
Union in Poetry
Choreography Juliano Nunes MusicEzio Bosso, Arvo Pärt, Frédéric Chopin Stage design Juliano Nunes Costumes Juliano Nunes Lighting designer Martin Gebhardt Dramaturgy Michael Küster
Junior ballet
Behind the Scenes with the Junior Ballet
Marta Andreitsiv, Luca D'Amato, Théo Just, George Susman and Daniela Thorne talk about why they became dancers and what it means to them to dance and be on stage.
Every two seasons, the Junior Ballet takes the stage with its very own evening of ballet. For the next generation of Ballett Zürich's dancers, it is a special challenge not only to learn existing repertoire, but to also be directly involved in the creation of pieces. For this latest evening, the Junior Ballet will present world premieres which they've developed with three young choreographers: Craig Davidson, Bryan Arias and Juliano Nunes. All three are well on their way to developing their own choreographic signature.

Craig Davidson, originally from Australia, has danced with the Royal Ballet of Flanders and the Semperoper Ballett in Dresden. He created his first pieces during his time in Belgium. He was a participant in development programs at the Royal Opera House Covent Garden, and took part in the New York Choreographic Institute. His works have appeared at the Wester Australian Ballet, the Queensland Ballet, the Atlanta Ballet, and the Zürcher Hochschule der Künste.

Bryan Arias is from Puerto Rico and grew up in New York. He has danced with the Nederlands Dans Theater and in Crystal Pite's company "Kidd Pivot". He has created works for the company there as the winner of the choreography competition in Copenhagen, and his pieces have also been performed by the NDT 2, the Scottish Ballet, the Hessische Staatsballett, and the Ballett Theater Basel. He founded his own company in New York in 2013, and is known for his poetically quiet, minimalist pieces.

Juliano Nunes was born in Rio de Janiero. After completing his training at the Akademie des Tanzes in Mannheim, he appeared at the Badisches Stattsballet Karlsruhe, with Gauthier Dance in Stuttgart, with the Leipzig Ballet, and with the Royal Ballet of Flanders. He has worked as a choreographer with the Royal Ballet of Flanders, the National Ballet of Canada, the Pennsylvania Ballet, and with the NDT 2.
---
Craig Davidson
Working with young dancers is a particularly exciting task for every choreographer. Right from the start I had planned for my work with Junior Ballet to make the creative process as comprehensive and rich as I would with more experienced dancers. Simply to give the young professionals the fullest possible experience and to teach them certain tools and techniques that could be of use to them throughout their careers. My concern was that lowering the requirements from the outset would have unnecessarily throttled the creative level. It was much more important to me to stay open to all the nice things that can come from working with a younger group of dancers.
The Junior Ballet surprised me from the first moment in the way the highly talented dancers threw themselves into every challenge with verve and fearlessness. They challenged me in their versatility as a choreographer. A highly complex piece was created in an always stimulating, mutual exchange. The Impulses, of which the title of this ballet evening speaks, we gave each other, and Entropy is the result of this constructive dialogue.
The accompanying circumstances of a global pandemic have repeatedly challenged us in terms of spontaneity, inventive talent and improvisational skills. The relatively long rehearsal period enabled the dancers to internalize my movement style and at the same time to influence my decision-making process.
Classical vocabulary is an important part of my choreographic language. In my work I try to question it again and again and to think further in a contemporary spirit. As far as musicality is concerned, my own background as a dancer in the Royal Ballet of Flanders, the ballet of the Dresden Semperoper and the Lucerne Theater influenced me as much as my love of tap dancing and many other theater experiences. For me it is always exciting to see the different ways in which this background is reflected in each new creation.
Entropy is the result of a conversation about our present, in which we experience every day how time shifts and our perception of time changes. The choreography takes us on a journey through different stages of emotions and confrontations. It tries to answer the question of how we adapt and deal with change.
---
«Impulse»: sample trailer «Entropy»
Choreography Craig Davidson
---
Bryan Arias
Bryan, the new Junior Ballet program bears the title Impulses. What impulses do you want to give this three-way evening?
Even before I started working with Junior Ballet, I thought about what I would like to give the young dancers as a choreographer. In the ever faster changing world of ballet, self-confidence and self-esteem seem to be particularly important to me. That's why I always take a lot of time to talk. Under the very special rehearsal conditions during the corona pandemic, we even had a lot of time for this. Listening is an important requirement in my work. The information from these conversations flows into my pieces. At the beginning of a creation process, I have no fixed idea what a choreography should look like in the end. I try to leave as much open as possible so that both dancers and the audience can find their own answers. In the process of asking and listening, a space for exploration is gradually created in a very organic way. In this very free and creative atmosphere I learn a lot about the dancers, the way they think, how they treat each other, get to know how serious they are, and hear their laughter. That paves the way for a special quality that I look for in my pieces - human, vulnerable, expressive.
In 2020 you received a lot of attention in the theater world: You were awarded the renowned German theater prize "Der Faust" for the best choreography. 29 May 1913 came out in 2019 at the Hessian State Ballet in Wiesbaden. What kind of piece was that?
It was part of a ballet evening dedicated to Stravinsky's "Le Sacre du printemps". The Paris premiere in 1913 was known to be one of the biggest theater scandals of the 20th century. I was particularly interested in the role of the audience. What did people expect at the Théâtre des Champs-Élysées, and what role do we as an audience play today when we go to the theater? Are we as independent and separated from the action as we think we are, or are we not an integral part of the performance ourselves? In my piece, the audience saw themselves on a screen in the set the whole time and thus became part of my choreography.
You come from Puerto Rico, grew up in New York, danced "Kidd Pivot" in the Crystal Pites Company and in the Nederlands Dans Theater. Today you live in Basel. How did all of this affect your choreographic language?
When I think about where my parents come from, for example, I am often surprised myself at the point where I am today. How things happen always has an air of something mysterious to me. I could never have predicted how my path as an artist would go. When I look back, I've basically always followed my gut feeling, my instinct. It took me to all the incredible places and brought me together with all the great choreographers and dancer colleagues from whom I learned an incredible amount. They are all present in my work to this day. When I watch a young dancer, for example, whose kind of movement reminds me of someone I admired at NDT or at "Kidd Pivot" ... Or when I'm in a place that reminds me of a stage with Jiří Kylián or Crystal Pite remembers.
When I started choreographing, in 2013 or 2014, I initially referred very much to things that I had danced myself up to then. But now I don't work like that anymore. I tried to be more authentic and honest with myself. Today I work very collaboratively, which is why the conversations with the dancers are so important to me. They should be themselves and not look like a copy of me. It is for this reason that the mirrors are imposed in my samples. The dancers have to rely on their own feelings and thus find a different authenticity.
Abstract and narrative elements combine in your choreographies. This is also the case in your new piece for Junior Ballet, in which we meet three men and three women. What is the relationship between these six characters?
There are six very different characters that are drawn and connected with one another in a very typical way. The choreography traces their relationships, but the question always arises whether what we are seeing is the whole truth. Every day we experience that everything in life happens with a consequence, that everything is a consequence of something. There is something comforting about this for me and it harbors a special kind of beauty and poetry that I have tried to transfer into this piece.
The six guys in your ballet remind me of a legendary piece by Luigi Pirandello. In Six people are looking for an author (1921) the Sicilian author invents a connecting story for six individual characters. Can you compare that to your work?
For me, the characters are not only connected through the dance, but also through various props. Some of these are very poetic things like a small hot air balloon, a goldfish bowl or a toy moon. When looking at these objects, certain images automatically appear in the minds of the dancers, but also of the audience, which in turn are linked to the choreography.
Here in Zurich I now work with six members of the Junior Ballet, but the idea for these props came to me when I was choreographing a fairly classic piece for a huge forty-person ensemble at the Bolshoi Ballet in Moscow. There it became very clear to me once again what a huge role social media such as Instagram and Facebook play in the lives of young dancers. The world of clicks and likes is all too easy to confuse with reality. In a chat someone posted photos of a trip with a hot air balloon, and I immediately thought of the feelings during such a flight: the floating, the calm and meditation while looking at the sky and the earth below. That was the starting point for the different types of encounters in this piece, which could have been this way, but perhaps also very differently. It is these coincidences that fascinate me again and again ...
... and which almost gave your piece its title. It's called now Pure Coincidence, but also via the title "G.U.T." did you think about it. What's it all about?
Two years ago my mother and I went to a fruit market in New York and was approached by an old woman. She asked me to use my cell phone because she was a victim of theft. I let her make a phone call and then got into a conversation with her, in the course of which she finally came up with the Grand Unified Theory (G.UT.), a complicated physical field theory. In her wisdom and intelligence, she turned out to be one of the most interesting people I have met in New York. These are situations that I carry around in my memory, and which then suddenly appear somewhere in a creative process and experience a new interpretation through me and the dancers I work with.
Your choice of music is surprising: it relies on strong contrasts and stylistic diversity. The whole thing is a mixture of soul, piano sounds and atmospheric noises. Which choreographic doors does music open for you?
It works in a similar way to the props I was talking about. How much risk do I want the dancers to take, and how do I challenge myself with a choice of music? How can I expand my limits? I'm not interested in music that makes my life as a choreographer easier. I need music that inspires me to contradict and argue.
In your rehearsals with Junior Ballet, sincerity was an important issue. What does that mean in relation to dance?
Honesty is a very popular term, but I use it anyway. In dance, you can quickly fool someone with an interesting move or a complicated combination of steps. But I can tell pretty quickly when someone is lying. Searching for dance truth is an important experience, especially for young dancers who are at the very beginning of their careers. From ballet school they are used to having someone keep telling them that something is right or wrong. I try to avoid that and encourage them to find their own truth.
---
"Impulse": sample trailer "Pure Coincidence"
Choreography Bryan Arias
---
Juliano Nunes
In my work as a choreographer, I come into contact with very different types of dancers at different companies. It's a nice situation because I don't run the risk of repeating myself choreographically. In my collaboration with the Junior Ballet, I also felt the impulse to create something new, which is only possible in this form with this ensemble.
In Union in Poetry I want to create a unity for the dancers. Against the background of the current pandemic situation, a feeling of togetherness is a precious commodity. In the last few weeks it has become very clear to all of us how much we need each other to move on. Beauty can be found in freedom of movement, in connection with music. When listening to classical music, the primary focus is on the melody, but choreography can open your eyes and ears to more details.
There are many ways in which one can write, express, and experience poetry. With the dancers of the Junior Ballet I tried to find freedom in movement. Although they are following a common direction in this choreography, they are not an army of robots, but very different personalities. That is why I always try to gain freedom of movement from the individuality of the various individual personalities.
The connection to the dancers I work with is very important for my choreography. I adjust to them and try to find out in which direction we want to go together and how I can broaden their dance horizons. The concept of beauty in particular is always up for discussion in our samples. I encourage the dancers not to pursue an unattainable ideal of beauty, but rather to allow beauty in a kind of ugliness.
I experience the young generation of dancers as technically very well prepared for the most varied types of choreography. I am impressed by their freshness, their vigor and their constant desire to learn everything and to give the best possible. Even under the challenging conditions of the current situation! I suffer every time I see dancers with masks over their mouths. At the same time, I am surprised how quickly we get used to this new reality and how quickly we react to these new conditions in our creations. I can hardly remember the feeling of how it was before. Nevertheless, we are just realizing once again how important the dancers' faces are, because we can show so much with them, learn so much from them. Facial expression is not something that is fake or trained. As a result of the whole body movements, it is an essential part of the choreography.
---
«Impulse»: Rehearsal Trailer «Union in Poetry»
Choreography Juliano Nunes
Junior ballet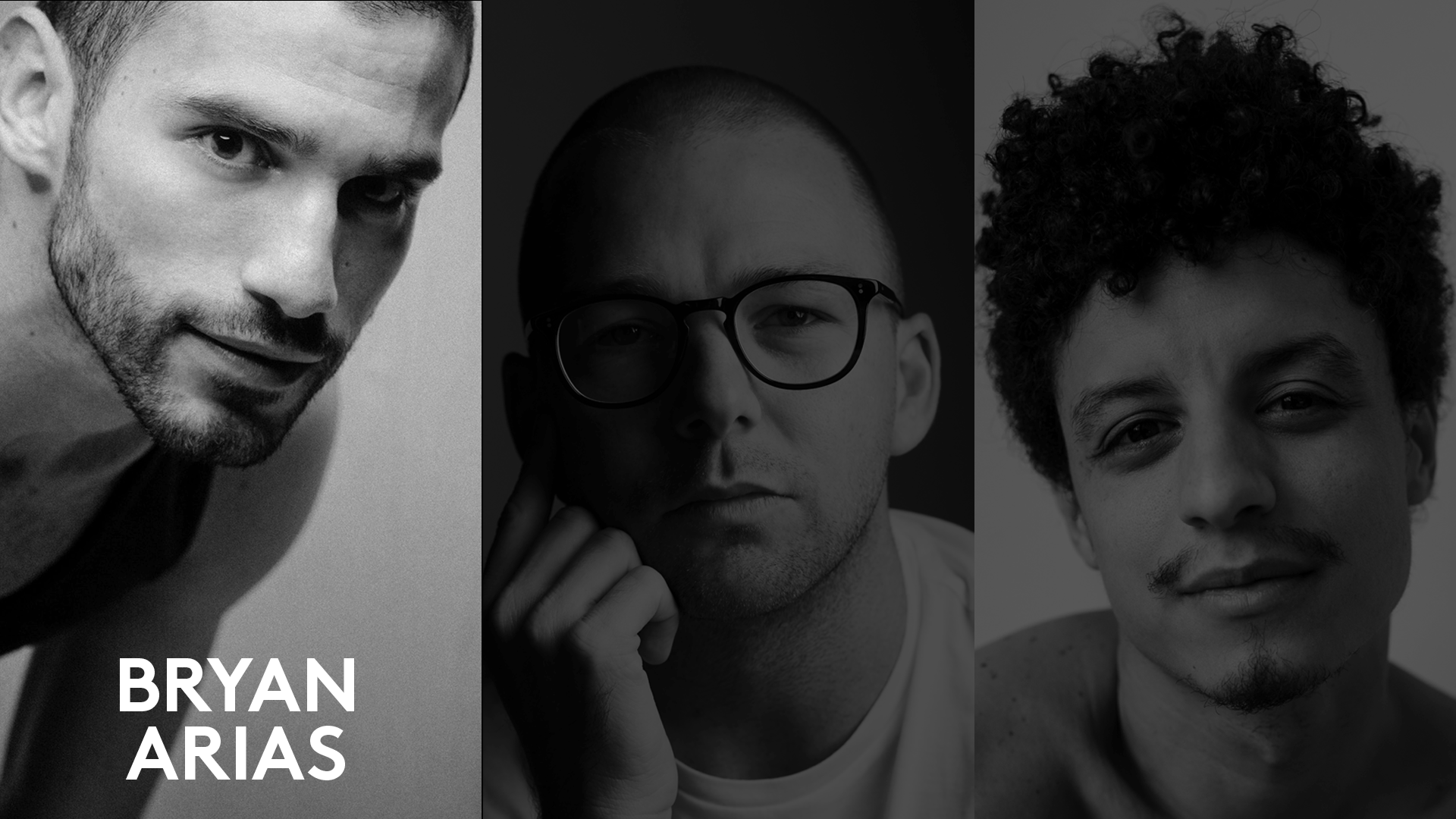 Achille de Groeve on "Pure Coincidence" by Bryan Arias
I really enjoy working with Bryan Arias on his piece. He is a very open and open-minded person who seeks constant dialogue with us dancers. The feeling that you have when you dance your choreography differs fundamentally from the other two pieces in our new ballet evening, because the focus here is less on the dance technique and more on expression and emotions. The piece offers a lot of freedom, not only in the type of movements, but also in answering the question of what connects the characters in this enigmatic piece. Whenever you seem to have found an answer, the next question arises.


Greta Calzuola on Entropy by Craig Davidson
The collaboration between a choreographer and a dancer always reminds me a bit of table tennis: there is constant give and take on both sides. I remember how nervous I was before the first rehearsal with Craig Davidson. But this nervousness quickly turned into curiosity and the joy of discovery. As with any choreographic process, we tried to get to a point as quickly as possible where our movements corresponded to Craig's ideas as closely as possible. I was fascinated by his movement language from the start. He finds a harmonious connection between classic lines and modern fluidity. No movement remains without consequences and leads to the next step almost automatically, so that I am amazed every time by the many nuances and contrasts. Sudden shifts in the axis of the body can create tension, sometimes it surprises us with a "contre temps", and then again one can completely lose oneself in the flowing movements.
These contrasts can be found not only in the group passages, but also in the numerous pas de deux and pas de trois. For example, I dance a duet with my colleague Théo Just. It's like a constant struggle between staying and walking, pushing and pulling, craving and refusing. Energetically, it feels like I'm a different person in a different life. But there is also the opposite in Craig's choreography. In the very slow and sensual duet that Marta Andreitsiv and Luca D'Amato dance, the two merge in perfect symbiosis into a single person. It is very important to Craig that we pay special attention to our extremities, our hands and our feet, when we dance. Of course, it is primarily the legs and torso that create movement, but the expressiveness of a touch, the extended line through a hand, the clarity and precision of the footwork make everything even more magical. I really admire the way Craig deals with the very different qualities of each and every one of us and integrates them into his choreography. Working with him and learning so much from him is a great experience.


Lukas Simonetto on "Union in Poetry" by Juliano Nunes
Working with Juliano Nunes has been a real privilege for all of us. Juliano is a choreographer who has his very own style and brings great ideas with him. His choreography is very musical. With him there is a direct connection between the music and the dance, and that is what makes the movements so powerful. For me, his choreography is an expression of the close feeling of togetherness that developed between us junior dancers during the long and intensive development process. That feeling of connectedness carries us through this piece. It is a "journey" that transports us from one place to another. Juliano not only uses our physical abilities, but also takes our very individual personalities into account. I really like that.