How to Open Line Cloudfone Thrill
South Pacific!
French Polynesia - Suwarrow (northern Cook Islands) - Republic of Samoa - Tonga - Fiji
Summary July to September 2019
In my last English summary from June I was complaining about the bad weather and the cold Maramu winds in Raiatea / French Polynesia.
No reason for a bad mood! A week later were rewarded with sunshine and turquoise waters in Bora Bora and Maupiti. About Bora Bora we had been a little reluctant because it has the reputation to be over-touristic, expensive and spoiled. But in reality you just can't resist to confess that it is beautiful. The lagoon with its high mountain in the center is breathtaking and the water is so clear that one could see the anchor in a depth of 20 ft. We met with German friends there and had a great evening at the "Bloody Mary" restaurant, a very famous place where dozens of movie stars and politicians have been. They are eternalized on pictures and a big plaque. Nobody asked us for a commemorating gesture but nevertheless we enjoyed our visit and the dinner a lot. All the sailor's and tourist's hustle and bustle in Bora Bora is very well organized, we never felt harassed or stressed.
Similar in landscape but the opposite in atmosphere was Maupiti - a tiny lagoon with a very simple village and the most variable shades of blue and green we had ever seen. A hike on top of the mountain showed those colors in their entirety.
Leaving Maupiti also meant leaving French Polynesia - no more lovely cheese, Bordeaux wine and French language. Very sad, but after having been there half a year our bank accounts were already screaming to move on. In addition we unfortunately had withdrawn too much cash for the last two weeks, Polynesian Francs we couldn't use anywhere else. We decided to close this chapter with a good deed and spent all the money in their tiny shop on wine and brandy, an investment for the future because it lasts long and doesn't strain the fridge. I bet this was their turnover of the year!
Moving on to Suwarrow mid-July was a step into a legend: Suwarrow is an atoll which belongs to the Cook islands and got famous because of Tom Neale, a men who lived there all by himself between 1952 and 1977 and wrote a book (" An island to oneself ") which got iconic for sailors and dropouts. It got so popular that the government turned the lagoon with its 20 islands into a national park to protect the area. Only two rangers may stay there, from June to October, the rest of the year it is not allowed to visit. There are no ferries and no planes, you can only get there by leisure boats. A lush thick forest and abundant maritime life with a lot of sharks, rays, turtles and huge coconut crabs prove this policy to be right. For us it was a welcoming break on the way to Samoa and we liked it although with 15 boats on the anchorage it was not quite the solitude one might think of!
On the 4-day trip to Samoa we got to know the typical weather of the central pacific: Thunderstorms around us (luckily we didn't get into one), high waves and constant change of wind in force and directions. But Samoa sure was worth it - such a welcoming country with an interesting history. There are two Samoas: American Samoa, anunincorporated territory of the United States with 50,000 inhabitants and their neighbor, the independent Republic of Samoa with 200,000 inhabitants, with more land and less money.
Around 1900 Samoa was reigned by Germany, with England, New Zealand and USA interfering. This resulted in bad fights and as a result the country got divided. America kept the eastern islands where their (still) large naval station had been implemented.
We stayed in the Republic of Samoa, in the capital Apia with its tiny but very nice marina. As a surprise there were German friends already staying who showed us around. Apia is one of the larger towns in the Pacific, very clean and "westerly" with university, great internet, supermarkets, Italian restaurants and reliable taxis. Strange for us during the first days was the fact that men wear (wrap) skirts, called "lavalava". Ladies wear them too and both also wear jeans and trousers. This mixture exists in all pacific countries west of French Polynesia. Meanwhile we got used to it and I have two lavalavas myself. It's so nice in the heat, also for men. But I couldn't convince my husband yet.
Skirts for men is not the only thing the south pacific states have in common. They are also united in their dislike of the Chinese. China kind of sneaks into those countries in offering them to build schools (which are obliged to teach Chinese then), roads (in exchange for fishing rights), hospitals (for their votes in the UN) and so on. Governments are in a dilemma and people feel constrained.
Back to Samoa. What makes it so fascinating is the difference between the city and the country. The small villages still have their "matais", the chiefs of family clans. Everyone has to obey them, even in personal matters. The big chiefs crown their career with a seat in parliament and so tradition still plays a big role in politics. For the younger generation that's not always easy and therefore a lot of them want to go abroad. Since also jobs are scarce in Samoa (and the fish are caught by the Chinese) there are already more Samoans living in Auckland than in Samoa! The only growing business is tourism (a destination for Australians and New Zealanders). Beach hotels, organized tours, custom shows and websites made us think that this could be a successful option for the future. But the most efficient point is the warmth of the people. People are interested in our life and countries, they talk and ask and help and support. In every shop, office or taxi you would hear them say "Thank you for visiting Samoa".
This cordiality continued on our next stop, Niuatoputapu. This jawbreaker-island lies between Samoa and Tonga and belongs to the state of Tonga, a small kingdom with 100,000 inhabitants which has always been independent and therefore isn't connected to one of the former colonial powers. Thus they are poor because none of those western countries feels responsible and tries to compensate the past with financial support (like French, British and Kiwis do in their former colonies)
Niuatoputapu is isolated even from the remote main islands of Tonga. There are no regular supply boats and very rare flights. Ten years ago they suffered a terrible tsunami which destroyed most of the houses. Both villages were rebuilt away from the beach and on the hills. Despite this hard life people are so nice and joyful, there is laughter and music everywhere. And incredible helpfulness: We cleared in at customs and asked where we could buy an internet simcard. The lady had to confess that the island ran out of simcards and didn't know when new supplies would arrive. She offered us the one from her private phone. Another girl drove home to borrow us her spare one but both didn't fit into our Apple devices. Finally she offered to bring her office's staff phone to the boat after work and pick it up in the morning so that we could use the internet at least during the night. Of course we didn't accept but the whole situation was very touching.
Quite different was our stay at the Tongan Vava'u archipelago, a two day's trip from Niuatoputapu. Neiafu, the main town (4000 residents) is a hotspot for sailors and has been the first charter base in the Pacific. Vava'u is so handy for holiday sailing because there are 70 islands nestled in each other, building a large system of fjords with many safe anchorages.
On Neiafus' large mooring field we had about 50 neighbors from all over the world. We arrived on my birthday on August 17th and our German friends (seems that the Germans are always ahead of the Austrians!) had already made reservation in an Italian restaurant for dinner - sunset view and great food - but two days later a rainy and windy period started and only left us three sunny days within two weeks. Good memories are so dependent upon the weather! Tonga didn't win this competition and towards the end of August we started our last several days' trip - from Tonga to Fiji.
Since we knew that my husband's right shoulder would need a surgery soon (same thing as on the left shoulder last year) we had already decided in early summer that we would leave the boat in Fiji during cyclone season and spend the winter at home. Our flight was booked for September 27th. That left us more than three weeks to get Yin Yang cleaned and prepared for her "vacation".
The passage from Tonga to Fiji will stay in our memories for a long time, at first because we saw large fields of pumice on the water which originated from a volcano eruption and secondly because I flew through the kitchen and broke three ribs.
On duty during our first night I wanted to pour myself a glass of water and when I was standing at the sink a wave lifted me and threw me towards the edge of the desk. I screamed so loud that poor Leo jumped out of his bed like a rocket and almost had a heart attack. I was okay so far but we had three more days to go, in winds up to 40 knots and I moved like a 150 year old. Sleeping was impossible, sitting outside checking the screens or reading was the best because I was distracted. Poor Leo had to do all the work, even cooking.
But the time went by and the welcome at Fiji Vuda Point marina was the more cordial. Everybody was considerate and employees came on the boat and helped with docking. Clearing in was smooth and rather fast and the marina staff even sang a song and put a wreath of flowers on the boat for luck. Then we heard our names being called - Swiss friends we had met in Ecuador arrived at the same time. Good mood was back again!
I got Xrays and ultrasound done and sent the pictures by email to a friend who is radiologist. He was a bit concerned about some liquid in the pleura but this was almost gone when I got the control Xrays done ten days later.
We are very happy to have chosen Vuda Point marina, people are friendly and everything is clean and comfortable. Bar and restaurant are great and we spent quite a few fun evenings with old and new friends resuming what we all had experienced. We talked about landscape, people and culture but also - repairs! That's what sailors mostly discuss! Even the new boats have problems, it seems to me that boats are not really made for the reality at sea, salt water is the enemy of all the expensive equipment. Leo is very good in fixing things and comprehends all these electrics, electronics, mechanics and hydraulics. To me it is only frustrating to realize how much time and money one has to invest in just keeping it go.
Keeping it go also means caring and maintaining, especially if one leaves the boat a few months in the tropics. Not to be bothered by mold or pests one has to clean and rinse and wipe and wash - we were sure glad that we arrived early enough because this time I was a bit slow and cautious. Though we made it until Yin Yang got hauled out and placed in its "cyclone pit". That's a hole where they dig the keel in so that the boat presents less surface to the storms. Cyclone time is around January to March but really bad storms are not very frequent in Fiji.
On our way home we stayed in Auckland for four days to get a taste of New Zealand. And it was a cold taste! It's spring there now but we were not used to this kind of temperatures any more. Apart from the weather Auckland is a very modern, lively city and reminded me a lot of Seattle, the sea everywhere in the city, beautiful highrises and people who are outdoor fans, running around in shorts and flip flops while I had to buy a thick jacket.
At home a pipe break awaited us (it was no surprise, our "caretakers" had told us). This is more or less fixed now and we can face Leos surgery on November 14th. Since it is the second time he is not too excited but the challenge will begin afterwards - this time it is the right side and he will be forced to do everything with his left hand for several weeks. Until our return to Fiji on April 18th he will hopefully be fit again! Meanwhile we enjoy comfort and easy life at home, preparing next year's voyage.
Vuda point, Fiji, September 7, 2019 S 17 ° 40.8 'E 177 ° 23.2'
Volcanic eruption, bad weather, broken ribs - that was Tonga!
Well, maybe that's a little drastic. After all, the Tongans can't help it and I don't want to sabotage Tonga's tourism advertising either. It's already hard enough in a country with 100,000 inhabitants, spread over 170 islands, far from all common travel routes.
As well as our stay in this old kingdom began, it got a bit tough over the course of the days and finally gave us a rather unpleasant finale with my flight through the galley on the high seas.
A lesson in South Sea fashion
So the detour to the Vava'u group didn't really bring us luck - but you can't know that beforehand. The beginning, as already described in the last blog, was promising. Entrance through the wonderful fjord landscape, birthday dinner at the Italian restaurant, reunion with Hille and Torsten, sunshine and a good mood.
The first day was a Sunday - as everywhere in the South Pacific, a visit to church is announced for fashion and musical reasons. It was like a parade by Christian Lacroix: brocade, sequins, lace, gold thread and pearl embroidery. You don't even see that much effort with us at an opera premiere. But it doesn't look tasteless - the ladies have the appropriate dignified attitude to it. Man wears a simple black skirt and a dark shirt. What is essential for both sexes in Tonga are bast mats, which are tied over all the glory. Doesn't exactly make you slim. But that would not be the ideal of beauty here anyway.
During the fair, the sailors sit shyly in the back row, dressed in a misplaced manner despite their best efforts, all the women pulling and tugging at their skirts and trying somehow to make their knees invisible. I thought ¾ pants were a compromise, but pants in church are even more embarrassing than a skirt that is too short. In any case, my wardrobe urgently needs to be supplemented. Around a skirt or dress with sleeves and reaching mid-calf. Even in Samoa I was always embarrassed and got irritated looks from taxi drivers, but unfortunately the fashion selection in Apia was very limited. Different here in Fiji! A paradise for everyone who likes to wander through clothing stores. Shopping is hip here, because the prices are moderate, even for branded goods. For me, however, this will only become relevant when we return in 2020. And before that I have to muck out the ship, otherwise we'll need a dinghy for my cloakroom.
Sailing tourism is not always romantic
Yes, what else has Tonga to offer besides fashion: The Vava'u archipelago (we weren't further south) is a labyrinth-like interwoven island world with wonderful anchorages and clear water. The short distances and protected bays are also the reason why Sunsail has set up the first charter base in the South Pacific here. However, it would have been good if the weather could have been made available. We just had four sunny days during the two weeks. Someone who puts down a few thousand for the flight from Europe to sail for two weeks in paradise is probably very frustrated.
Vava'u was frustrating, at least a little, for us too. After the wonderful experiences on our first Tonga island, Niuatoputapu, it was really difficult for Neiafu, the main town of the Vava'u group.
Neiafu with its large buoy field and the relatively good infrastructure is a center for sailors from all over the world. The market shows all the variety of South Sea fruits, the restaurants offer American burgers and authentic Italian cuisine. Almost everyone who is on the so-called "barefoot route" comes through here. There is a lot going on and you can survive a few rainy days in the sheltered bay. But of the exuberant happiness and the accurate streetscape of Niuatoputapu nothing can be noticed in Neiafu. Plastic bottles and handkerchiefs on the side of the road, the waiters are (almost) professional, but in the shops you mainly see strict and serious Chinese faces.
We could have imagined that Neiafu is of course not like Niuatoputapo - the bigger the place, the more sailors and tourists, the more impersonal the atmosphere. But here too we can only report good things from the authorities, as in all South Sea countries so far the officials helpful and friendly.
A short hike through the villages on the highest mountain on the island gave us a brief insight into the everyday life of the Tongans. Nothing more because of brocade and pearls, the Sunday best stays in the closet during the week and the "normal" living conditions are quite modest between pigs, dogs, wrecked cars and muddy front gardens.
Too much pumice, too few whales
After a few wonderful (even sunny) "vacation days" in the Hunga lagoon, the planning of the crossing to Fiji was on the agenda. And once again it was not without a thrill. In the week before, of all times, an underwater volcano got into its head that it would have to break out and throw the sailors off guard! The volcano produced masses of light brown floating pumice stones that covered the surface of the water. The poor skipper who drove in first, of course, had no idea what was going on and almost got stuck in the stuff. Fortunately for us who followed, he quickly made the matter public and we were able to avoid the drifting field. A few chunks still swam around on our route.
We would have preferred to see whales rather than pumice stone. Other sailors describe on their homepages that the whales only line up with them to take pictures. Or that they at least blow loud and clear all around. There are even people who have swum with the whales. But we only saw a tail fin wagging from a great distance twice and that's it. And Tonga would be the world's most important hotspot for whale watching - but not for Yin Yang. It is whale resistant.
The flight through the kitchen
But we were very brisk. 82 hours is quite a sporty time for the route from Neiafu to West Fiji. However, we could not really enjoy this performance, because the joy of it spoiled a very brazen wave: During my first night watch I felt like a glass of water and when I was so confident and full of anticipation for the cool water at the dishes, A huge wave hit the boat from the side, which threw me against the chart table after a flight of 2-3m. This, in turn, tried very hard to dig himself into my ribs as hard as possible, which in turn triggered a high-pitched scream, so that the poor skipper shot out of bed like a rocket. And immediately asked all the important questions - can you breathe, can you move everything - can you get up - yes, that was all possible despite groaning and groaning ("no, I don't want to go to bed, I didn't hurt myself") and whoosh I'm back on duty outside in the cockpit. Two hours later, however, nothing worked. As soon as the adrenaline, which apparently shoots in in such a situation, has evaporated, you feel like a balloon that is running out of air. And it stayed that way for the next three days until we arrived in Fiji. In addition, sleep was out of the question, because when the ship is lying down, every movement of the ship passes directly into the ribs. It was best to sit in the cockpit and take turns watching and reading the instruments, at least that distracted. Also from the seasickness, which made itself felt to make matters worse. My poor husband was equally tired, he didn't close his eyes because of all the excitement and had to do everything by himself, even keep the kitchen going. Although we both had no appetite anyway and ate almost nothing. All this with up to 40 knots of wind (at least on the last day) - well, I can do without such a trip in the future!
A welcome that goes to the heart
But - and there are many suitable proverbs - "rain follows sunshine" and this time in the form of the staff of the Vuda Marina. When we tried to find the waiting buoy in the dark at 10 p.m. (you are not allowed to drive in when it's dark) and turned a few circles, we were seen in the marina and a boat came out to accompany us to the buoy. We found that very nice at first (many Mediterranean marinas could learn a thing or two about it), but what followed the next morning was the summit: at 9 a.m. we were asked to come to the quarantine jetty, where a whole team moored helped decorate Yin Yang with a wreath of flowers and sing a welcome song to the sound of a guitar.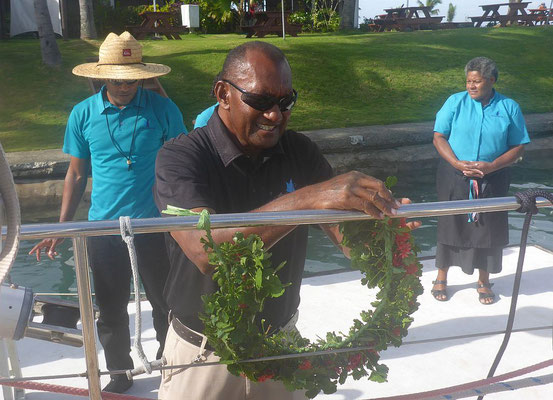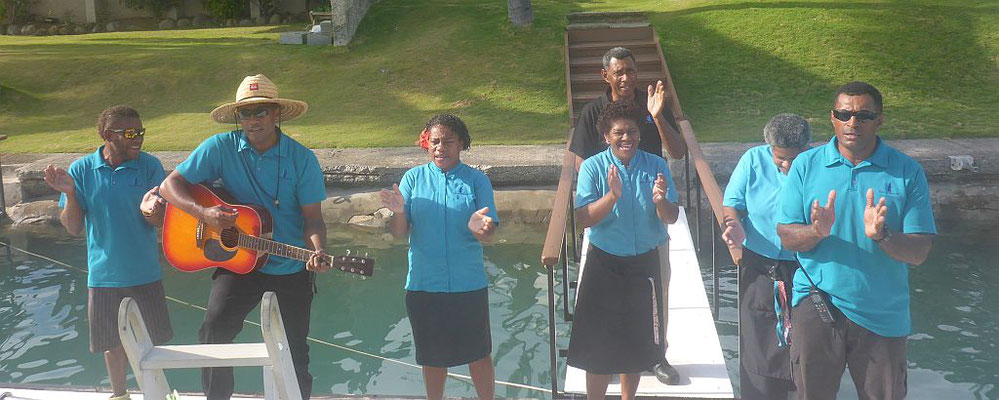 Relatively soon the authorities were on the spot and we were able to lower the yellow flag, i.e. officially go ashore. When docking at our final berth, the Dockmaster even came on board, as I was unusable. Suddenly we heard well-known voices calling out our names: Georg (appropriately doctor, plastic surgeon) and Marisol, who had looked after us so nicely in Ecuador, completed the reception committee.
From tears and other fluids
Nevertheless, I was not spared going to the doctor. I don't want to think about the contortions I had to do for the X-ray, nor about getting on and off the bed for the ultrasound. It hurt so much that I cried and couldn't help screaming. Embarrassed and with a bright red head, I reappeared in the waiting room.
The ultrasound showed only good things - everything is in the stomach where it belongs. The X-Rays were sent to me by e-mail and I immediately sent them on to our friend and radiologist Hajo, who is now thinking about my inner values ​​on the sailboat in Greece. He thinks that ribs are broken, but that can hardly be determined with a normal X-ray. But it doesn't matter, you can't contribute anything to the healing anyway. What he doesn't like is a build-up of fluid in the chest that can lead to pneumonia if not careful. But I'll be careful - Georg and Poldi make sure they check their temperature and take their medication regularly and at the beginning of next week I'll have a control X-ray, which will hopefully show no more fluid.
The farewell is in preparation
All in all, I'm doing pretty well again, but I'm still a long way from the feeling of being able to uproot trees. Worst of all, however, is that my team of doctors - the sailing radiologist Hajo and the worried but always optimistic cosmetic surgeon Georg - have given me an absolute cleaning ban. And the cleaning work in preparation for the seven months in the "Cyclon Pit" is extensive, because here again the risk of mold and vermin is very high. The marina offers cleaning staff for rent, which is already positive, but I will probably always have to stand by - in a small space anyway, because the special features of cleaning in various nooks and crannies are quite complicated on boats and the dirt is often just achievable with many contortions.
In order to prepare the cleaning as best as possible, I will first start with the mucking out. It's unbelievable what accumulates and how many bad purchases - not only for clothes, but also for cooking pots and the like - one still makes in old age.
Poldi has to take care of what feels like 1000 technical repairs and service work, stowing the sails, unthreading the lines, cleaning the bilge etc etc and due to my inability he also has to do the outside cleaning work. That doesn't make my 'sick leave' exactly relaxing either, because next to him I feel like a hypochondriac because you can't see anything from the outside, not even bruises!
So we will spend the next two weeks (our flight to Auckland is booked for the 27th) as productively as possible, luckily the marina is beautiful and has a great restaurant. (We'd better eat our freezer empty though).
In any case, the first impression of Fiji is good: great infrastructure, nice people and at the moment the weather is quite pleasant. We will probably have to postpone deeper insights into the country and society until next year.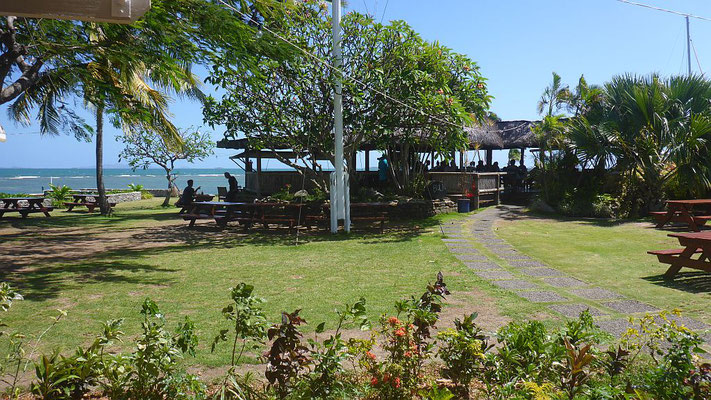 Neiafu, Tonga, August 20, 2019 Position: 18 39.444 S 173 58.971 W
"What, in Tonga you only want to visit one island? That doesn't work "we heard from all sides when we were planning to sail from the northernmost Tonga island Niuatoputapu directly to Fiji. We thought about it briefly and checked the wind - yes, Fiji is actually not running away from us. So a few days ago a small detour was built and the Vava'u archipelago was headed for. Fiji will follow in early September.
First of all, I owe you the second part of our Samoa impressions.
Exotic and colonial history
Samoa has kept what it promised. The people are extremely friendly and interested, the culture is unique and the ice cream parlors (New Zealand merchandise) tempting. Nevertheless, we were not spared a big disappointment: the morning changing of the guard fell into the water from the day we finally got up for this photo event early in the morning. As you can read in all travel guides, the snappy police orchestra marches to the government building in full lava-lava gear to the sound of South Sea brass music. We must have missed something! Because of our disappointed faces, a senior official was brought in, who apologized and asked for understanding that he currently needed everyone for the almost unbearable morning rush hour in traffic. Otherwise someone might be late for work or school. Of course, we didn't want to answer for that either. But to be honest, compared to the traffic jams in Apia, Grammatneusiedl looks like New York anyway.
We were able to experience a different kind of local color at the "hottest show in town" - according to the posters. No, not striptease, God is there in Samoa - it's about dancers who perform incredible acrobatic tricks with burning rings of fire. (Unfortunately, it is almost impossible to take pictures because of the rapid movements). To breathe deeply, there were South Sea dances in between, where it becomes clear that you can move extremely gracefully even with a certain amount of body.
By the way, fire dancing is an international sport, with world championships and all the trimmings. And the Samoans are right at the forefront. They perform all over the world, even the 12-year-old son of our taxi driver already had engagements in Hawaii and Florida. The secret of success like everywhere else in Samoa: talent, ambition and daily training.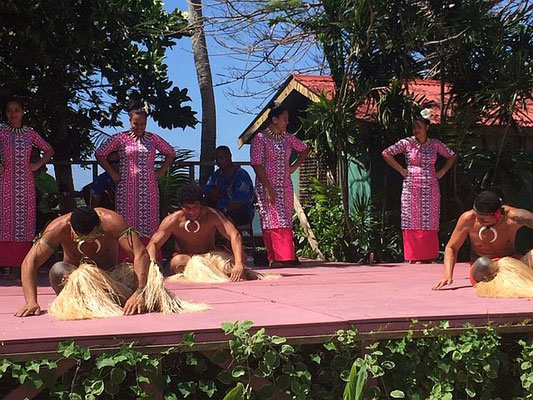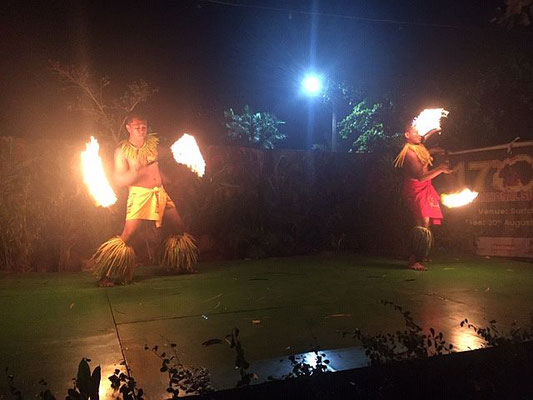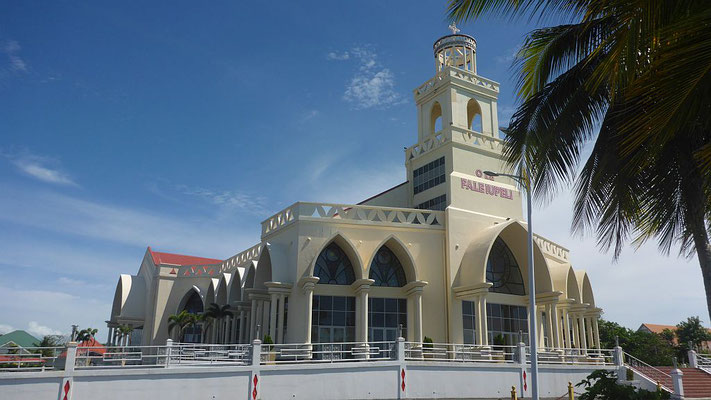 Sightseeing in Apia
My ascent of Mount Vaea, where Louis Stevenson is buried, was also hot and sweaty. The Scottish author of "Treasure Island" spent the last years of his life in Samoa because of his tuberculosis. He was already famous and wealthy back then, but the magnificent villa, which is now the top sightseeing destination in Apia, was much smaller in its time. After the author's death, it was expanded to serve as the seat of government for the German and later the New Zealand governors.
A little colonial history can also be seen in the Museum of Samoa, but only with the help of old black and white photos, which are very interesting, but apparently were hung by a giant, because I had a stiff neck for three days from desperately trying to find the descriptions to read.
In addition to the magnificent cathedral and the German police building, there are no more architectural sights in Apia, the wooden buildings of the Germans have not withstood the storms, the earthquakes, but also the woodworms. The city's atmosphere thrives on its feel-good effect, it is safe and clean, (almost) everything works and you only hear friendly words.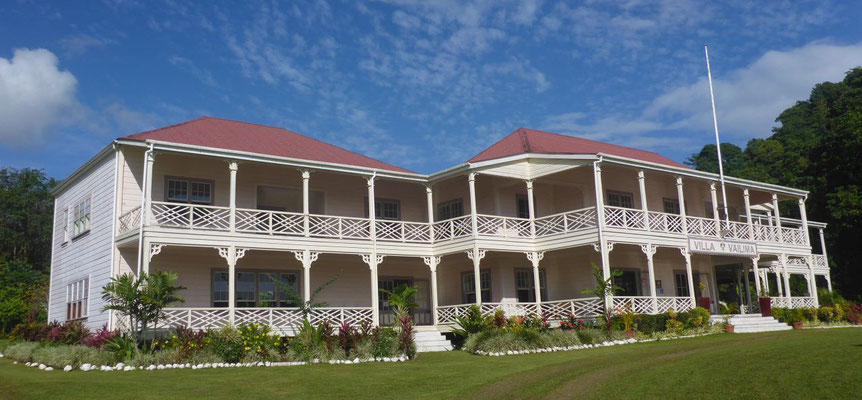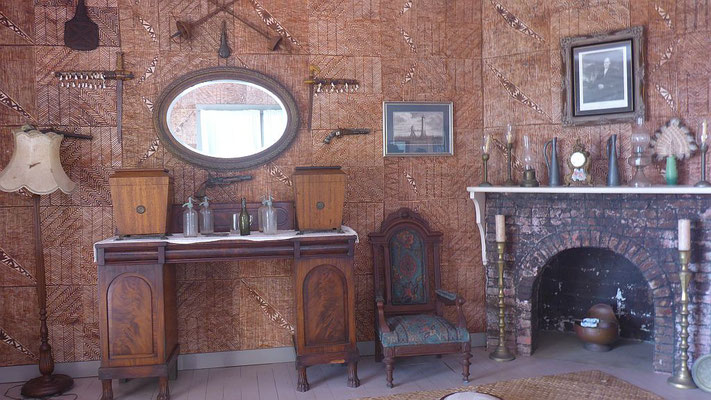 Life between Church and Chief
Today's life of the Samoans is mainly determined by two factors: Christianity and the "Chiefs". Almost every second building is a church, from Methodists to Catholics to the Protestant "Church of Samoa" everything is represented. People really live Christianity in everyday life, the children even have to pray in the restaurant before they eat. In general, children and young people make a very good and obedient impression, because a large number of schools also belong to the churches. The 19th century English missionaries did a great job.
Outside the city, religion is also determined by the "matais", everyday life. These are the chiefs, who are subject to a strict hierarchy, starting with the heads of the family clans who are elected by the members themselves. The best of them become village chiefs, then district chiefs, and so it goes on to become members of parliament. It is not only important for this career that you can show impeccable subjects, but also that you have at least a tattoo from your knees to your chest. Who is lifting the lava lava to control it?
But don't make fun of it because the system seems to be working. The people do not make a crouched or submissive impression, but rather appear self-confident and confident. Impressive, because they are big and strong anyway.
Family is everything
However, in the villages (the city is a bit more liberal) it is hardly possible to make a personal decision without the next higher "matai", he always has the last word, even on everyday matters. If, for whatever reason, you do not live with all your relatives under the protection of the chief in a large family household, you quickly become an impoverished outsider. A visit to our taxi driver's sister-in-law showed us what it means to live alone in an old hut on the mountain.
Visually, this restrictive social order has a very colorful effect, at least for tourists. A tour of the island leads through villages in which pastel-colored churches and colorful "fales" alternate. "Fales" are the traditional houses. Only floor and roof, in between some pillars, total transparency. In the residential buildings they now serve more as an additional terrace, but every chief also has a "service fale" for meetings and gatherings. Lots of chiefs, lots of fales, and the higher the chief, the bigger and nobler the fale.
As a Samoan, you live very closely between authorities and written and unwritten laws. The longing looks of many younger people in the direction of New Zealand cannot be overlooked. The Kiwis raffle 40 residence permits annually. So it takes a lot of patience and determination to put your life on a "western" footing. And then integrating yourself there is certainly not easy either. But jobs with a regular income are rare in Samoa, tourism is the only growing business. There are some nice hotels and the state goes to great lengths to provide an adequate infrastructure. The most important asset, however, is the kindness of the people. "Thank you for visiting Samoa" says almost everyone with whom you come into contact. And you can feel that it really comes from the heart.
The lonely island with the complicated name
The same friendliness greets us after a 26-hour cruise in Niuatoputapu, a remote islet that already belongs to Tonga. You can check in there and we were taken to the "official building" in one of the few cars. We would never have found it alone, three small, unsigned houses far away from the main road for banks, police and customs. The acting lady represents customs and immigration and drove with us to the small pier, where a young woman joined us as a representative for health authorities and quarantine. We went to the boat by dinghy and proceeded to the official act. We had a great conversation with the ladies, after all we were only the 15th boat in the lagoon this year, so every sailor is an interesting change. That Austria has nothing to do with Australia is also known here, because one of the two women has already been to Austria! On the way back from the Catholic World Youth Meeting in Poland. All right: religion plays the same role in Tonga as it does in Samoa. The church bells ring here even at night and wake us up from sleep.
The warmth also continues in Tonga. First act: The customs officer had to inform us that unfortunately the Internet SIM cards have run out on the island and we do not know when the next ship would be with supplies. When she sees our disappointment, she immediately lends us one of her private SIM cards and drives us to the post office to recharge. But oh dear, it fits into the I Pad, but doesn't work there. It's too big for the I phone. Act two: a customer who is present immediately declares that she is ready to fetch her second card from home. Since it took her 20 minutes, I don't assume she lives nearby. The internet still didn't work, apparently it doesn't like Apple devices here. Third act: The lady from customs brings us back to the boat and offers us to bring her work cell phone over after office hours and pick it up in the morning before work so that we can surf at night! But we're not that addicted to the internet. Nevertheless, we were very touched by the proposal.
These positive feelings were especially good because the Yin Yang had bucked again on the day of arrival. When we tried to retrieve the foresail before entering the lagoon, nothing moved on the forestay. You could hear the electric motor humming, but no movement, nothing.Fortunately, Poldi knew by heart how to convert to manual furling, but that was no fun with the flapping sail, the whipping pods and the boat hopping in the wind. He was then able to quickly make a clear diagnosis at the anchorage - broken screws, installed by the Amel workshop in Martinique. Instead of a tour of the island, first a day of work, a lot of swearing and twice on the mast. But how could it be otherwise with the Yin Yang Skipper, it worked.
There was still a tour of the island - the police chief has five children and is improving his civil servant's salary by showing the sailors around the island in his 4WD. Niuatoputapu is more than 300 km from the nearest island with infrastructure, 700 Tongans live here and the state even affords them a high school so that children up to 18 can live at home and do not have to go to boarding school, as is usually the case on small islands . But those who do not see their future in agriculture have to go to the capital for further training or - how could it be otherwise - to New Zealand.
Idyll and tsunami
Farm life is not much more lucrative here than anywhere else, but, at least for the visitor, it is extremely idyllic. Happy families of pigs are squeaking everywhere and playing on the beach. At low tide, people sniff for crabs between the corals, a pork seafood buffet, so to speak. Cows and goats graze and munch, condescendingly eyed by many beautiful horses. Riding horses? Yes, but not for the weekend hobby - you still ride to work on the plantations and to the fields!
Everything is well cared for, the lawns trimmed and the flower beds weed. The houses all look the same. On a sad occasion, because in 2009 all three villages were almost completely destroyed by a tsunami. Nine were killed, including the police chief's father and sister. With the prefabricated houses financed by the World Bank and Caritas, new settlements slightly higher up were built. The horror is slowly fading, although the tsunami is still present in many conversations. You also have to get used to heavy storms here, almost every year between December and March. You can see that there are no paradises after all!
Nevertheless, the people have not stopped laughing. There are resounding laughter from some houses and I thought a couple of times that it was coming from the television - but no, the people are really in a good mood and having fun. In Samoa people were generally a little more serious and thoughtful.
Neiafu Sailing Center
After five days of idyll and nature, curiosity drove us on to the Vava'u Islands. It took us 28 hours to get there from our lonely islet - at first with good wind, unfortunately under engine for the last 8 hours. But we really wanted to arrive on Saturday afternoon, because Hille and Torsten - see reports from Papeete and Samoa - are also at anchor here and had already reserved a table with the best Italian restaurant in town - and it was really great. It was wonderful that we could celebrate my birthday there at the same time.
With 3700 inhabitants, Neiafu is the second largest city in Tonga and a unique, fjord-like natural harbor with many nearby anchorages all around. For this reason, the place is of course a hotspot for sailors from all over the world with shops (sounds a bit grandiose, it's more like the typical dark Chinese shops), restaurants, cafes and sufficient SIM cards.